History
2005
Scrap Metal Services, LLC (SMS) founded by Jeffry Gertler and Richard Gertler.
2007
SMS acquired Illiana Scrap & Core, Hammond, Indiana.
2008
SMS Mill Services, LLC was established and built scrap management and processing operation in Burns Harbor, Indiana to service one of the world's largest steel producers.
2010
SMS Mill Services set-up scrap management and processing operation in Coatesville, Pennsylvania.
The company also launched a commercial operation in Malcolm (Calvert), Alabama, adjacent to ThyssenKrupp Steel USA and Outokumpu Stainless USA, LLC.
2011
SMS acquired Behr Iron 's Port of Indiana Baling Facility, Burns Harbor, Indiana.
The company also formed a trailer leasing joint venture, SMS Intermodal Services, LLC.
2012
New greenfield commercial scrap operation in Warren, OH.
New greenfield scrap management and processing operation at JSW Steel (USA) in Baytown, TX. SMS Mill Services set-up scrap management and processing operation in Warren, OH for Warren Steel Holdings, LLC.
Acquired All Star Metals, LLC and All Star Shredding, LLC in Brownsville, TX.
2013
SMS Mill Services set-up automated slab scarfing & cutting operation, and formed 2 joint ventures: SMS de Mexico and SMS Foremex, to handle automotive and industrial scrap generators in Mexico.
All Star Metals, LLC (ASM) – now Scrap Metal Services – Brownsville – a subsidiary of Scrap Metal Services, LLC (SMS), was awarded the contract from the United States Navy to tow and dismantle the ex-Forrestal (CV-59).
2014
Fe Xchange Group, LLC brokerage and trading services was formed.
Acquired Paul's Auto Yards, with 7 locations in Northern Indiana and Southern Michigan.
Purchased the assets of MRS, which included Nonferrous, Heavy Media Plant, and Shredder.
Acquired the auto shredding operation of 360 Degree Metal Recycling in New Carlisle, Indiana.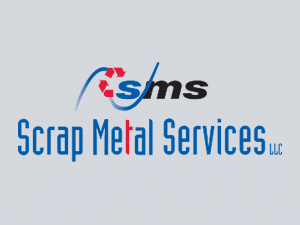 2015
SMS awarded mill services and slag management processing contact at FRISA's Santa Catarina Nuevo Leon, Mexico facility.
2017
In April, Scrap Metal Services announced it had finalized an exclusive supply agreement with FE Trading Group LLC (FTG) to trade their ferrous scrap directly to North American steelmakers.
2018
SMS was awarded the scrapyard management contract at the APERAM steelmaking facility in Genk, Belgium in April, with operations beginning on August 1.
In October SMS entered into a multiyear contract at JSW Steel USA's facility in Mingo Junction, Ohio to include slag removal and processing, metal recovery, drop balling, and other miscellaneous services.
SMS established its first board of directors in December 2018, with founders Jeff Gertler and Rick Gertler serving as Chairman and Co-Chairman respectively.